Monday, June 25, 2018
7:00 p.m. – 9:00 p.m. (doors open at 6:30 p.m.)
Temple University, Japan Campus, Azabu Hall 1F Parliament
Conférenciers : Yoshihiro Takishita, architect and minka restorer
Azby Brown, former director of the Future Design Institute at the Kanazawa Institute of Technology and member of Safecast
Modérateur : Kyle Cleveland, Associate Director of ICAS
Langue : anglais
RSVP : icas@tuj.temple.edu
Accès
Informations
Les vidéos des conférences de l'ICAS (Institute of Contemporary Asian Studies) sont disponibles en ligne ici.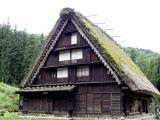 Overview:
The Japanese minka — traditional farmhouses — have been celebrated worldwide as vernacular architectural masterpieces. Once ubiquitous and found in incredible variety throughout the Japanese archipelago, they are rapidly disappearing as lifestyles change and rural towns age and depopulate. A minka preservation movement has arisen, however, and an increasing number of forward-thinking individuals have devoted themselves to restoring and reusing these inspirational buildings. The motivations are not simply aesthetic, as the traditional Japanese farmstead was a model of sustainable design, careful use of scarce resources, and superb integration with natural surroundings, all of which are crucial aspects of any successful approach to the challenges we face in the future. This talk will bring together a leading minka restorer and an expert in traditional Japanese buildings and sustainable practices to discuss the unique characteristics of minka and how learning from them can better prepare us for a beautiful and sustainable future.